On September 1, the MUSE Creative and Design Awards, leading competitions that honor creative and design professionals, have released the list of winners for its second competitive season of 2023. DRAGBAR, a leading disposable brand in the vaping industry, has received well-deserved recognition at this year's American MUSE Design Awards, with two of its groundbreaking and eye-catching products being awarded for their exceptional design.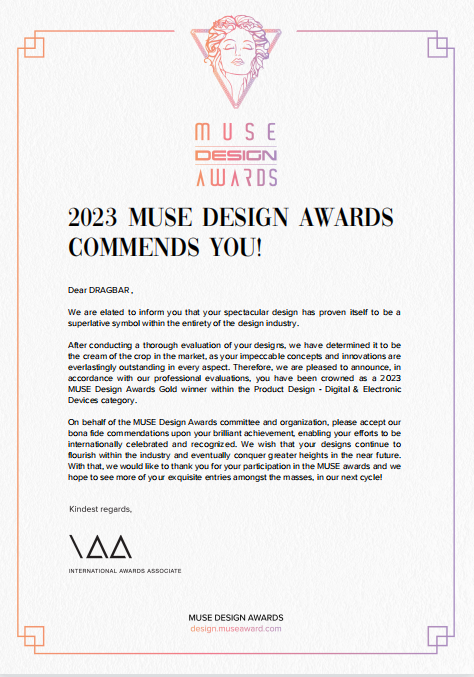 The two distinguished products from DRAGBAR - DRAGBAR B3500 and DRAGBAR BF600 - have showcased the brand's formidable innovative prowess and have also been recognized with awards from many organizations.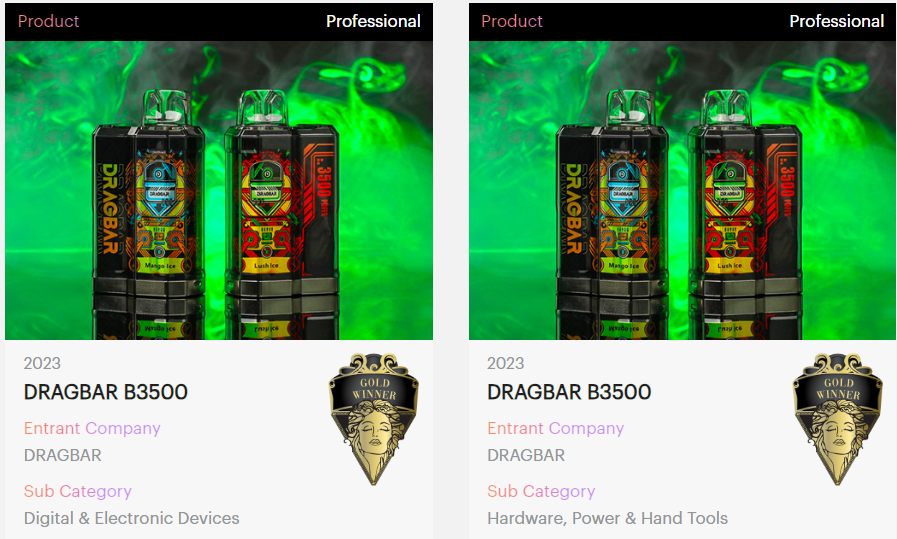 DRAGBAR B3500 is the world's first supersize smart color screen disposable in 3500 puffs. It has a Power & E-liquid display screen, which shows how much e-liquid is available through different color lights. This is the first time that the Power & E-liquid display screen is applied to products with the middle puffs. It has also received much praise and support for its outstanding performance and eye-catching appearance, and made a big splash at the passing Champs Trade Show and ASD Market Week this year.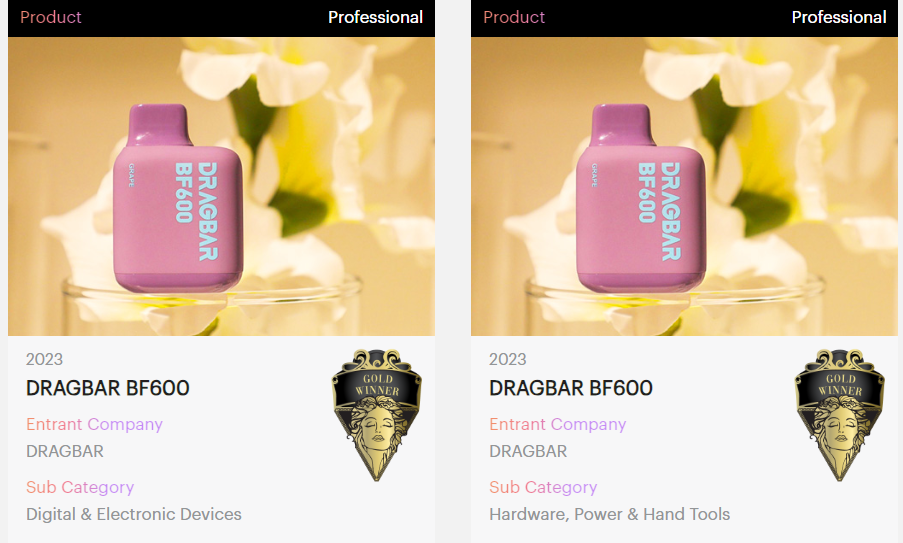 With the slogan of "Mini Box, Max Your World", DRAGBAR BF600, which is the latest launched mini shaped disposable e-cigarette in the DRAGBAR family, has an ultra compact body and exquisite design, bringing unimaginable lightness and convenience. Its upgraded Mesh Coil inside, bringing 500% of consistency improvement along with 45% of flavour reproduction and 30% of puffs promotion, delivers exquisite and rich flavors of each puff.
Founded in New York, USA, the Muse Design Awards is an international design competition for creative professionals and companies, and one of the most influential awards in the world of creative design, aimed to honor, promote and encourage creativity by providing a new standard of excellence for evaluating design production. The ingenuity, much like a muse, reshapes the boundaries and scope of creativity. The spark of inspiration is actually the best reward and praise for persistence and accumulation.
The recognition from the MUSE Design Awards greatly inspires DRAGBAR's dedication to creating products that exceed customer expectations and further solidifies its position as a thought leader in the industry. It also acts as an external validation of DRAGBAR's capabilities and quality of work, building trust and confidence among potential customers.
WARNING: This product contains nicotine. Nicotine is an addictive chemical.