World's leading compliant disposables brand, DRAGBAR, is kicking off its second consecutive year as a partner of One Motorsport , which is one of Britain's most prominent motorsport organizations  best known for its title-winning success in the prestigious British Touring Car Championship (BTCC).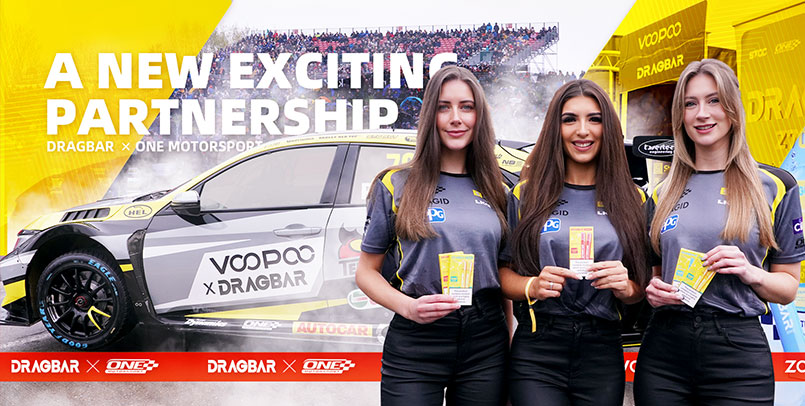 Enjoy the Joy of Speed! During the 22th-23th April, over 40000 audience showed at the first 2023 Kwik Fit British Touring Car Championship race day at Donington Park, immersing in the fierce and wonderful competition.
A successful merger, a fresh start. This is not the first time that DRAGBAR has collaborated with racing teams. Last year, DRAGBAR proudly announced its support to Will Powell, a budding British touring car champion that recently saw the championship-winning team of One Motorsport merge with his own successful Motus One sports car squad.
On the day of the competition, DRAGBAR set up a stall in front of the stadium to showcase its highly anticipated star products DRAGBAR Z700 SE, which has won the ecigclick award, which is issued by one of the most authoritative and influential e-cigarette websites in the UK. Fans gathered and  experienced the eye-catching DRAGBAR Z700 SE with beautiful appearance and rich taste on the scene.
Relying on the cutting-edge technology and R&D strength of its sister brand VOOPOO, DRAGBAR's DRAGBAR Z700 SE stands out with its puffs and consistent flavour. It is the first fully visible oil tank disposable, which is armed with Gene Tree Ceramic Coil solution offering the technical advantage of ultra-high performance conversion, while achieving the largest puff(700) among those TRPR&TPD- Compliant vapes.
The spirits of motor racers are somehow like that of DRAGBAR , which has always adhered to the concept of "user-focus" and constantly develops new disposable vapes to meet the ultimate needs of users all over the world. Its star product line, DRAGBAR, is famous for its compactness and great taste. Partnership with One Motorsport is an important step for DRAGBAR 's co-branding strategy, demonstrating the brand's ambition for a global strategy.
For more information, follow us on Instagram, Facebook, YouTube and TikTok.
Instagram:https://www.instagram.com/dragbar.official/
Facebook:https://www.facebook.com/dragbarglobalofficial
Twitter:https://twitter.com/dragbarofficial
YouTube:https://www.youtube.com/@dragbarofficial
TikTok:https://www.tiktok.com/@dragbarfans
*During internal testing, Dragbar Z700 SE can support 700 puffs at maximum. (The actual number of puffs will be affected by personal vaping habits)
WARNING: This product may be used with e-liquid products containing nicotine. Nicotine is an addictive chemical.