Exciting good news came that DRAGBAR B3500, the first supersize smart color screen disposable in the World, has come to meet its fans in the US! This is also the first time that the Power & E-liquid display screen is applied to products with the middle puffs.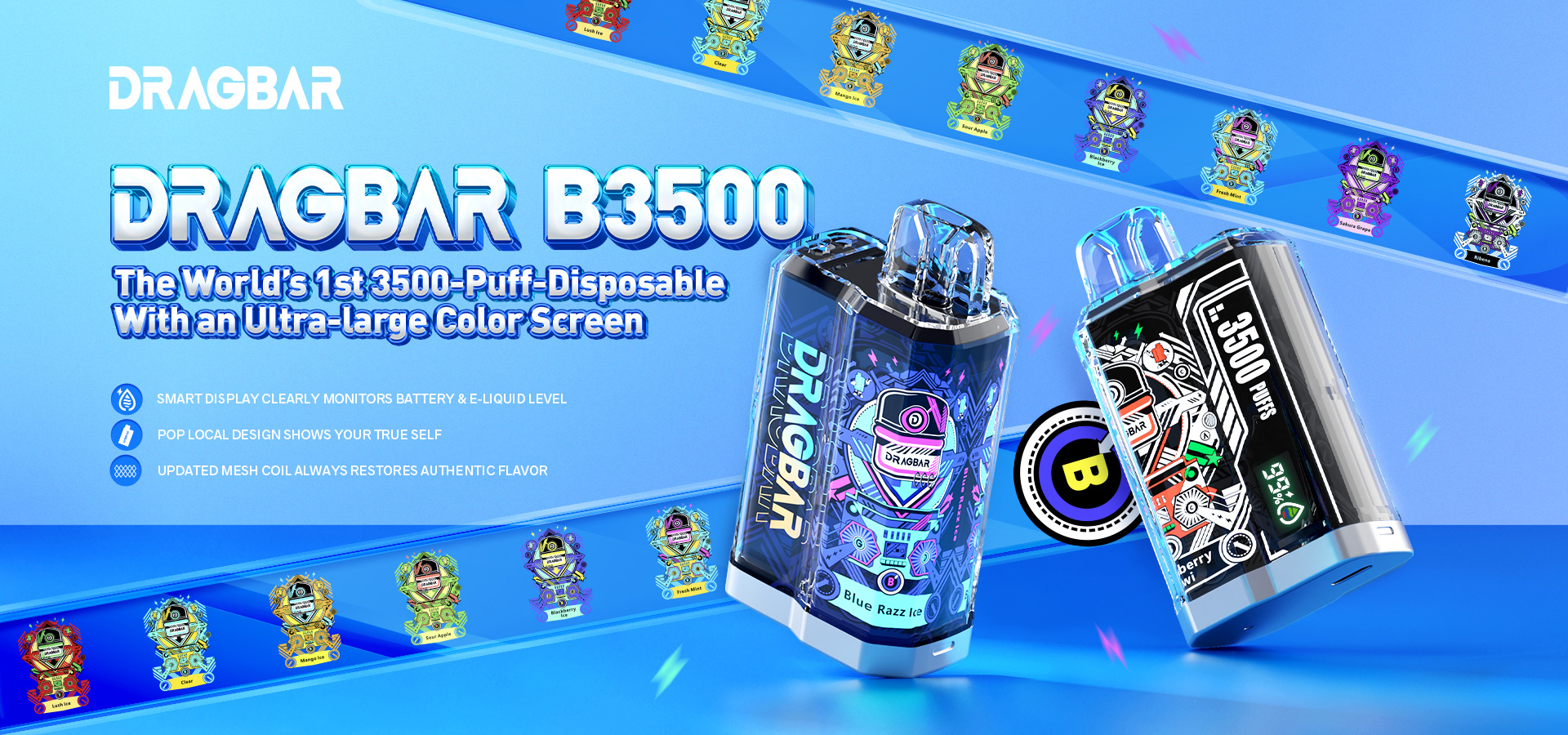 During the passing Champs Trade Show in Las Vegas, DRAGBAR B3500 stood out from the crowd and there are many highlights of this new heavyweight product that deserve to be noticed.
World's first 3500-Puff-Disposable With an Ultra-large Color Screen
DRAGBAR B3500 has an ultra-large color screen, which allows users to check the power and e-liquid level of the product at all times and frees users worries over battery and e-liquid depletion. Ultimate experience, free from anxiety, and everything is under control.
Pop Local Design Shows Your True Self
DRAGBAR B3500 is a revolutionary product in the DRAGBAR family to adopt transparent appearance and mecha-style pattern design. Cool and trendy, pop local design perfectly meets young people's desire for beauty. The bottom of the product made of aluminum alloy makes the product feel more comfortable and textured in the hand.
Updated Mesh Coil Always Restores Authentic Flavor
DRAGBAR B3500 adopts exclusive and upgraded Mesh Coil to highly restore the taste and keep the full taste consistent, even with no reduction after times of charging. The instant burst of throat hit forms a unique vaping aura between lips. Oil leakage proof design provides a better guarantee for vaping, creating a full and lasting pleasant vaping experience.
Up to 16 original flavors that cater to Americans' taste preferences
Local e-liquid engineers interprets up to 16 original flavors of DRAGBAR B3500 that satisfy Americans taste needs after doing a lot of market research and data analysis. It awakens your taste passion, always something new.
We are confident that the market outlook for the DRAGBAR B3500 is very promising in the long run. As one of the most developed e-cigarette markets in the world, the United States is in dire need of diverse and advanced e-cigarettes to fill the growing demand. In the current highly competitive disposable vape market, DRAGBAR always adhere to compliance standards, innovate to create quality e-cigarettes, and forge a global leading brand.
For more information, please follow DRAGBAR on Instagram, Facebook, YouTube and TikTok.
Instagram:https://www.instagram.com/dragbar.official/
Facebook:https://www.facebook.com/dragbarglobalofficial
Twitter:https://twitter.com/dragbarofficial
YouTube:https://www.youtube.com/@dragbarofficial
TikTok:https://www.tiktok.com/@dragbar.io
*During internal testing, DRAGBAR B3500 can support 3500 puffs at maximum. (The actual number of puffs will be affected by personal vaping habits)
WARNING: This product contains nicotine. Nicotine is an addictive chemical.